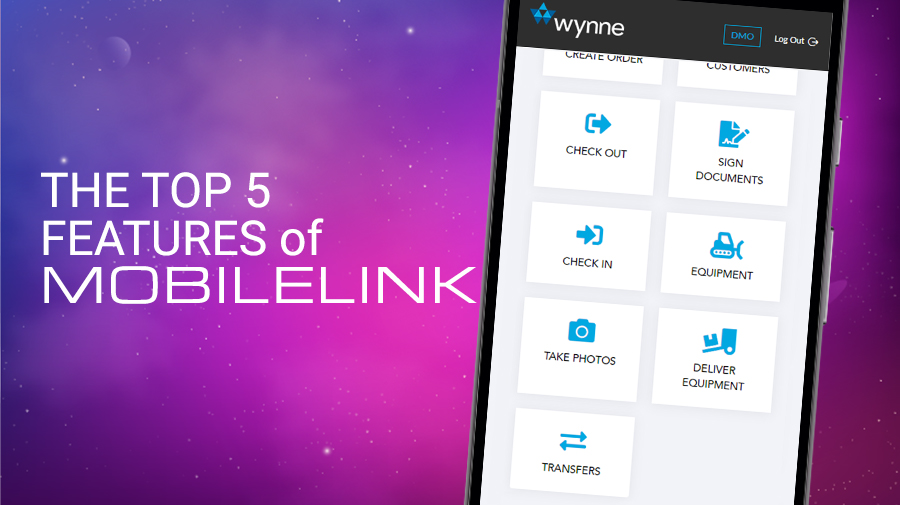 MobileLink, Wynne's award-winning mobile application, is best-known for making RentalMan's core functions accessible from smartphones and tablets. And while that reputation is certainly well-earned, it'd be a mistake to regard MobileLink as merely RentalMan made portable. MobileLink boasts a multitude of unique features that have earned it the endorsement of many of the world's largest rental companies. In today's blog, we'll be exploring the top five MobileLink features that its users value the most.
Equipment Pictures
These days, the efficacy of photographing assets before they go on rent is widely accepted across the equipment rental industry. By having irrefutable evidence of the condition of their assets before they leave the yard, rental companies are able to resolve damage disputes quickly and painlessly. But despite the practice's broad acceptance and significant benefits, only a fraction of rental companies actually include picture taking as part of their everyday workflows. For many equipment providers, the hassles of integrating equipment pictures into their ERP system simply outweigh the advantages they expect to gain.
MobileLink enables rental companies to enjoy the many benefits of equipment pictures without the complexities of integration or the woes of manual photo management by automatically loading photos taken through the application to RentalMan. Once companies start using MobileLink's picture taking functionality, they quickly see that its benefits extend beyond claiming additional damage revenue faster. Equipment photos preserve customer relationships that might otherwise be endangered from back-and-forth disputes over damage. By closing orders sooner, rental companies have seen significant improvements to their days sales outstanding (DSO). And in addition, by always having recent photos of their assets on-hand, posting listings for used equipment no longer requires taking assets out of the yard just for the sake of pictures.
Held Returns
In a previous blog, we explored how out of sync asset availability statuses can hinder your rental company's utilization and operational efficiency. To recap, ERP systems rely on accurate, up-to-date data to the same degree that rental companies rely on ERP systems. Without high quality data, ERP systems simply cannot provide the accurate, all-encompassing fleet visibility that rental company require to operate at their best.
Unfortunately, at many rental stores, yard teams work in technological isolation. Because they lack immediate access to any ERP system, they instead rely on paper forms that often go untouched for days after an asset is rented or returned. This lag time results in available assets being wrongfully marked as unavailable, which subsequently results in sub-optimal utilization and even lost sales.
Thankfully, MobileLink rectifies this issue. Through its held return feature, yard staff are able to instantly update asset statuses in real-time from the convenience of their smartphone or tablet. This immediacy ensures that all assets statuses are constantly up-to-date, turnaround times are improved, and better utilization standards can be achieved.
Quick Pick List
Even with seasonal trends and historical data, it can often be tough for rental stores to predict the demands of their customers. Busy days can often feel like they come out of nowhere. Because of this, it's crucial that service departments and yard staff are able to prepare assets for rent at a moment's notice.
MobileLink's quick pick list feature helps bridge the gap between sales and service teams, enabling rental businesses to better capitalize on sudden upticks in orders. The ability to create to-do lists provides service staff with priority-based guidance which in turn helps ensure high-performing assets are always kept available.
Equipment Lookup
As insightful as fully customizable reports and powerful business intelligence tools can be, in many instances, the depth of information they provide can be excessive. By focusing on the KPIs branch managers and sales reps care about the most, MobileLink's equipment lookup feature provides users with high-level visibility of their fleet at anytime and from anywhere.
Based on metrics like total value of assets on-rent, pickup, available, and down, users are able to adjust their sales strategies in real-time to improve their overall utilization. What's more, by being able to see the availability of assets at other branches, MobileLink users can quickly identify sales opportunities (fulfilled via transfer) that might otherwise be lost.
Contract Signatures
Compared to your business' other operating expenses, the endemic costs of paper-reliant processes might seem inconsequential. But in reality, the true cost of paper isn't limited to printing and data entry costs. Resolving seemingly small complications like legibility issues, damaged forms, and lost documents can distract finance teams from achieving their core responsibilities.
With its ability to digitally capture signatures, MobileLink enables rental businesses to greatly educe their reliance on paper forms. In addition to reducing overhead costs, by digitizing their operations, companies are able to benefit from fewer administrative errors, improved record-keeping, and overall efficiency improvements.
Ultimately, while the achievement of distilling the equipment rental industry's premier ERP system into a mobile application shouldn't be minimized, MobileLink does not exist in RentalMan's shadow. By accelerating and improving aspects of rental operations that other solutions simply overlook, MobileLink has established itself as a one-of-a-kind solution in the rental management software space.
Click here learn more about MobileLink or reach out to us for a personalized demo.