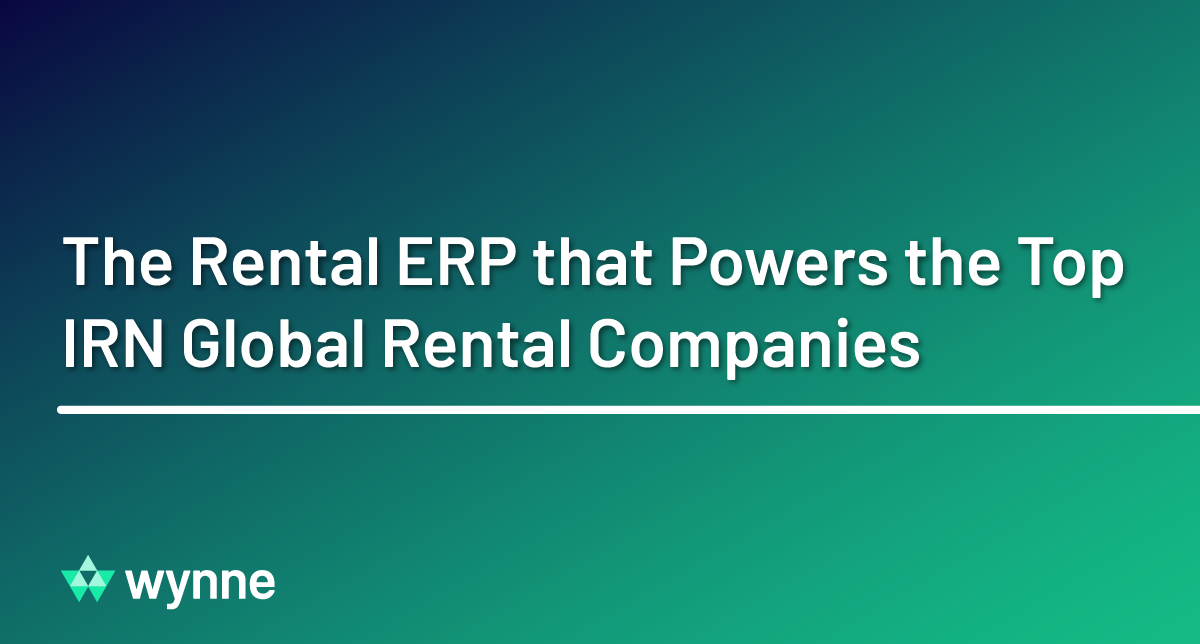 What Rental ERP does the most profitable and highest growth equipment rental companies use? According to the recently released International Rental News' (IRN) top 100, the top four global companies all use RentalMan rental ERP by Wynne Systems.
RentalMan by Wynne Systems is the equipment rental ERP Software of choice to the top four (4) largest rental companies in the world. According to the International Rental News' (IRN) top 100 largest rental companies in the world, RentalMan users come out on top including United Rentals, Ashtead Group (Sunbelt Rentals), Herc Rentals, and Loxam. Together they processed a combined $23.9/€22.3 billion in revenue through RentalMan. These top performers boasted a 21% year-over-year increase.
#1 United Rentals
United Rentals, the world's largest equipment rental company, continues its streak as #1 on the IRN 100 list. In 2022, United produced an astounding $10.1/€9.4 billion in revenue and completed their acquisition of Ahern Rentals (pre-existing RentalMan user) which will further their growth trajectory for 2023.
#2 Ashtead Group (Sunbelt Rentals)
The Ashtead Group (Sunbelt Rentals) achieved tremendous growth, with revenues of over $8.6/€8 billion in 2022 – an increase of nearly $1.9/€1.8 billion from the previous year. The Group continued to prioritize fleet optimization, one of RentalMan's most powerful features, investing $2.6/€2.4 billion into their fleet in 2022, helping them close the gap with the leader in the IRN100.
#3 Herc Rentals
Herc Rentals rose three spots on the IRN 100 preview list with a staggering 32% growth from last year, resulting in $2.7/€2.5 billion in revenue. This growth trajectory shows the impact of applying decades of rental business logic across a large rental enterprise with the RentalMan rental ERP suite.
#4 Loxam
Loxam, the largest Europe-based equipment rental company, increased their revenue from $2.4/€2.2 billion in 2021 to $2.6/€2.4 billion. With a strong rental EPR platform driving twice the industry per branch profitability, Loxam accelerated growth with capital investments in acquisitions, such as the purchase of HR Equipamentos from Group GHP Investimentos, ensuring Loxam remains the highest in the top 10 Europe-based companies.
"While we are excited about this global recognition for our clients, it is no surprise to us," said Robert Gray, General Manager at Wynne Systems. "When we onboard new clients, their expectation is to outperform their competition. This is not just limited to the largest rental companies using RentalMan. Holistically, RentalMan customers typically see double the annual rental revenue per branch than those not using RentalMan. It is only a matter of time before that level of growth shows up on the global stage as our customers continue to grow into new markets. Those who use the full RentalMan rental ERP suite have a distinct advantage in the marketplace, and we are proud to support their success."
If you are interested in seeing how RentalMan can power your business, Schedule a Call – Wynne Systems | Transform Your Business Today