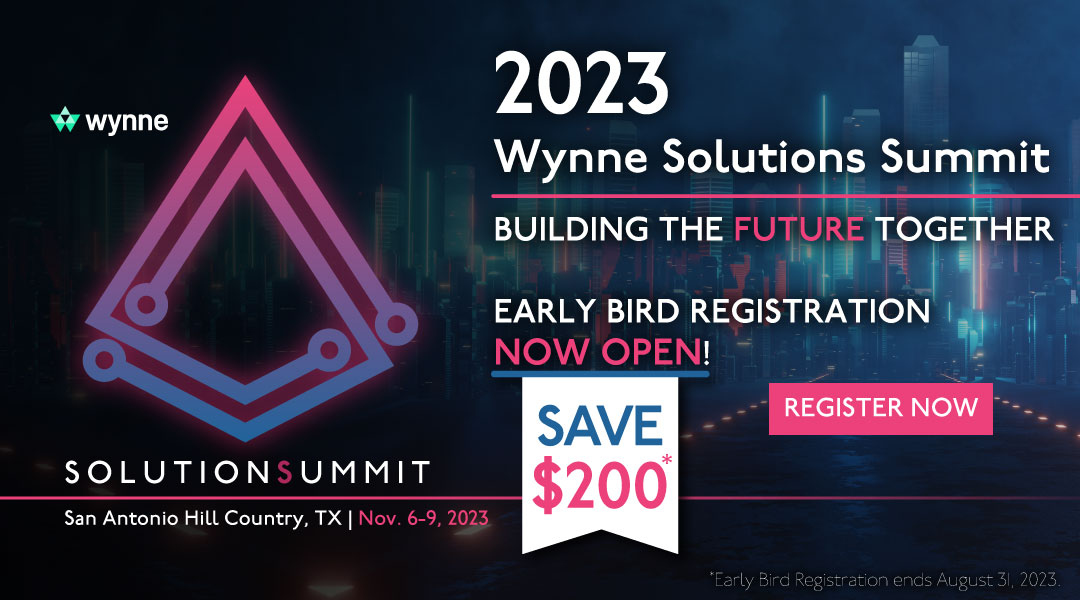 B

uilding the Future Together

| San Antonio, TX |

November

6

th

– 9

th

, 2023
Wynne Systems is thrilled to announce its first-ever summit – Building the Future Together! This year's Solutions Summit will be hosted at the award-winning La Cantera Resort & Spa from November 6th – 9th. 
The upcoming Solutions Summit is a little different than User Conferences of years past. With the name change comes a new format that will be packed with value and unique opportunities that you will not want to miss. Here are five (5) reasons why you should attend: 
1) Gain and share knowledge with your industry peers
While there will be plenty of sessions catered towards the development of our '23/'24 Product Roadmaps, we are putting an emphasis on customer-led sessions to share best practices, implementations, and successes/failures.  
2) Learn about current development priorities, active projects, and solution roadmaps
The team here at Wynne is constantly working to improve the systems your business uses daily. The summit will have plenty of sessions where you can learn about and discuss some of the latest developments, future roadmap plans, and add some tips & tricks to your belt on maximizing your software usage. This is a unique opportunity to discuss these topics directly with the people who are building the solutions you use and continue to influence the future of our product development. 
3) Connect with future customers, partners, and vendors in your industry
Leaders from many different industry verticals and positions will be attending the summit. This is a great opportunity to meet others and find new ways to collaborate with each other in the future. It also provides a unique opportunity to learn how others are using Wynne System's software in their specific instance. If you are interested in becoming a sponsor of our '23 Solutions Summit, please email [email protected] 
4) Explore and validate forward-thinking ideas that will change your business
Staying competitive requires the successful implementation of forward-thinking ideas. The Solutions Summit will be packed with sessions where new ideas can be explored and validated. If you've been thinking about some new ways to drive your business forward, this is a great time to see if someone else in the industry has had success with them already. 
5) Enjoy the amenities of a great resort while discovering new ways to change your business
While the conference is going to be packed with loads of value for your business, you'll be able to enjoy the awesome amenities of the prestigious La Cantera Resort & Spa. We carefully selected this year's venue to ensure you have a comfortable and enjoyable stay while you work with us to build the future. Scenic hillside views, exquisite dining, and many other entertainment opportunities will make this Summit an experience that you don't want to miss. 
Don't miss out on this engaging opportunity to discover new ways to drive your business forward and shape the future of Wynne Systems' software! Register today for the 2023 Solutions Summit and get ready to take your business to the next level. 
To register, please visit www.WynneSolutionsSummit.com