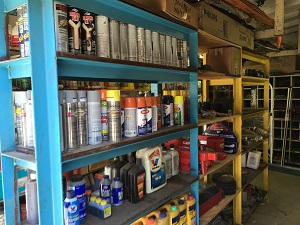 The best way to save is to buy in bulk, every Costco shopper knows that! Each yard could buy a pallet of nails and concrete, enough for all the job sites and save the company money. Yet, in practice, it is easier to let each job site buy their own box of nails at full price.
Why? Because it is challenging to track the small stuff and assign the costs of one box of nails to a specific job. The yard doesn't want to make money per se, but they need to break even. So they need to allocate the costs of all equipment and consumable to the right job or project. If not, they are perceived to be losing the company money.
So the trick is to create a process and system to make it easy for the foreman to come into the yard and shop for what they need and simply mark the sale on a mobile app. That "sale" would then get recorded in the inventory tracking software system for all to see. The monthly charges for each job site would then include all of the equipment and consumables used at that job site.
A portal provides added visibility and shows all the equipment in use at every job site and the consumables used. The portal keeps the yard, job foreman and project managers all in sync about what equipment is at each job site, what tools are being used and what consumables were used.
Sound interesting? Let us show you how you can save money on consumables.